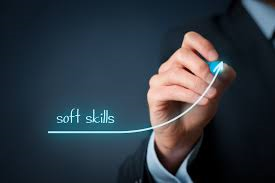 Soft Skill Training
Soft Skills training provides individuals to help them strengthen their interpersonal skills. Soft Skills Trainers provide support for people who struggle with or lack interpersonal communication skills. Soft skills are related to your attitudes and your intuitions.
There are various soft skills which you need to be successful (Given Below).
Leadership
Ability to work in a team
Communication skills (Verbal, Written)
Problem-Solving skills
Strong work ethic
Analytical/quantitative skills
Technical skills
Computer skills
Flexibility/adaptability
Interpersonal skills

Importance of soft skill training:

Soft skills are an essential part of finding, attracting, and retaining clients. Highly-developed presentation skills, networking abilities, and etiquette awareness can help you win new clients and gain more work from existing clients.